RV Parking
China Peak is one of the only mountain resorts in the nation to allow recreational vehicle parking on site. Due to its popularity, these sites fill quickly.
PLEASE NOTE: No recreational vehicles are allowed entry to China Peak between the hours of 8am - 5pm on weekends or holidays, no exceptions. The skier traffic is heavy during peak morning and afternoon hours, there is NO access to RV spaces during the day due to full parking lots! You are welcome to arrive during 8am - 5pm on any midweek, non-holiday period.
During snow events all RV's will be directed to park in designated sites to accommodate snow removal, no exceptions, thanks!
RESERVATION INFORMATION
Rates are $54 per night per space non-holiday, $64 per night on holidays*.
Rates are also subject to a 12% resort fee.
Weekend stays require a two-night minimum and holiday* periods require a three-night minimum.
*Holiday dates are 12/26/22 through 1/1/23, 1/13/23 through 1/15/23 and 2/17/23 through 2/19/23.
All RV's must have a reservation, no exceptions. We will call or email you back to confirm but for some reason you have not received a confirmation, you cannot arrive at the resort without one.
RV owners, there are times after major snowfall where we may either not allow RVs for a short period during or following the storm or cancel reservations. It is imperative we have our parking lots 100% free of all vehicles.
Reservations are required and one night deposit is required at the time of reservation. The balance, including taxes and fees, is due 14 days before the arrival date. We will automatically charge this balance to the credit card on file prior to arrival.
If a reservation must be cancelled, you must cancel prior to 14 days before arrival for a full refund. If cancelled within 14 days of arrival date, there will be NO refund.

Call the Inn at 559-233-1200 for assistance.
IMPORTANT RV INFORMATION
China Peak has 16 RV spaces available.
Spaces are 15 feet wide spaces to allow for pop-outs and safe distances between vehicles.
RV's will park at an angle for easier access along the bank of East Lot #2.
Each space has a 30 amp electrical hookup.
We do not have a dump facility on site, please plan accordingly.
All tow vehicles must park opposite of their RV along the bank of East Lot #1.
All RV guests must check in and sign the policy agreement at the Inn at China Peak's front desk prior to parking.
Camp fires are acceptable only when contained and in approved, elevated fire receptacles. Ashes must be extinguished and dumped in the designated trash can. (Please note the U.S. Forest Service may deny fires at anytime).
Please plan accordingly there are no shower facilities on site.
These policies have been set so China Peak may continue to offer RV parking on site while far more effectively managing our day parking. All the policies will be heavily enforced and any violations will result in immediate and long term loss of RV parking privileges. To make reservations or for more details, please call the Inn at China Peak at (559) 233-1200 or email cpinn@skichinapeak.com.
2023/24 WINTER SEASON PASSES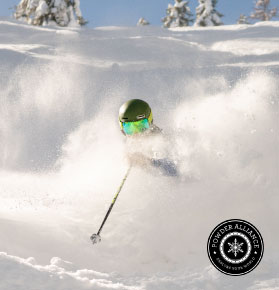 WORK HERE, PLAY HERE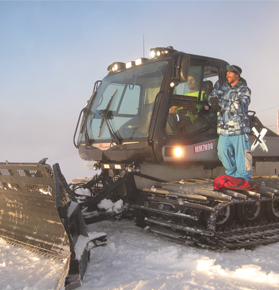 STAY AT THE PEAK