The Latest
Sunday, January 22, 3:30 PM
We are currently experiencing an internet outage at the resort so if you do not see a current update on this page, please call the snow phone at 559-233-3330. The snow phone will be updated frequently today with the current weather and resort operations.
As of late afternoon, there is still some light snowfall that is beginning to break up. With 12" of new snow in the past 24 hours, Monday should be another amazing day at the Peak. We plan to operate Chairs 1, 2 and 6 first thing with 4 and 5 scheduled as well. The Juniper moving carpet for beginners will also be open. Highway 168 is open with chains or 4WD with snow tires, give yourself plenty of time.
You will find a combination of deep open powder, skier packed powder and machine groomed packed powder as our grooming crew has been out the past 16 hours doing what we can to provide a groomed surface in spite of consistent snowfall. Be ready for fresh snow all over and remember, when you venture into the epic deep powder, always, always do so with partners, no exceptions.
We will open the Day Lodge and Mainstream and Buckhorn as well. All other facilities are open including China Peak Sports, Ski & Board School, Learn to Ski & Ride, Ski & Board Rentals & Demos (grab a pair of our skis perfect for deep snow), Jack's, Sully's and our new Wine Bar in Jack's from 2-4:30PM on weekends. Enjoy apres ski and dinner at J.W.'s Original Restaurant & Bar.
We have a rooms available at the Inn tonight. We also have two and three bedroom condominiums next door at Huntington Lake, call (559) 233-1200 to book or go on line (Inn only).
EARLY LOAD FOR BLACK PASS HOLDERS HAS BEEN RESCHEDULED TO SATURDAY, JANUARY 28 AT 8:30 AM.
CHECK OUT OUR NEW WINE BAR IN JACK'S PLACE, OPEN 2-5PM ON WEEKENDS!
OUR NEW MIDWEEK SKI & STAY PACKAGE IS AVAILABLE SUNDAY-THURSDAY NIGHT ALL SEASON (EXCLUDING 2/19), CALL (559) 233-1200 24 HOURS A DAY OR BOOK ON LINE! WE ALSO HAVE A LIMITED NUMBER OF TWO AND THREE BEDROOM CONDOMINIUMS AT NEARBY HUNTINGTON LAKE; CALL (559) 233-1200 TO BOOK. THE HISTORIC J.W.'S ORIGINAL BAR AND RESTAURANT IS OPEN NIGHTLY, WITH DINNER STARTING AT 5:30 PM.
The New Rock 104 Party Bus from Sequoia Brewing Company (Champlain & Perrin) runs every Wednesday into April! The price is crazy ... $49 includes both the bus ride and all day lift ticket, $20 if you are a season pass holder. Book on line to reserve your seat! Click here for details. THERE ARE STILL SEATS AVAILABLE FOR WEDNESDAY, JANUARY 25, WHICH WILL BE AN INCREDIBLE DAY ... BOOK NOW.
We will as always keep you up to date HERE, on the snow phone (559 233 3330) and our FACEBOOK PAGE.
For updated road conditions 24 hours a day, call (800) 427-7623, say or press '168', or go on line at dot.ca.gov, enter 168.
Projected final day of 2016/17 season: April 23.
SKI WITH NICK ... How do those world class skiers make such amazing turns in every type of snow? Well now's your chance to find out, close up, in person. China Peak's new Director of Skiing, Nick Cohee, one of the world's top ski racers over the past decade will demonstrate world class ski technique, then share tips with you to make your turns better, fast. Ski with Nick is only offered the first Saturday of each month. It's only $20 for 90 minutes, and a maximum of six are allowed in each session for a personal touch. Each participant much be a strong intermediate skier. The $20 fee does not include lift ticket. Click here to reserve now! SOLD OUT THROUGH APRIL. We have just added two more dates - February 18 and March 18.
Our 2016/17 season passes have more benefits than ever. CLICK HERE FOR DETAILS.
BUY TICKETS & PASSES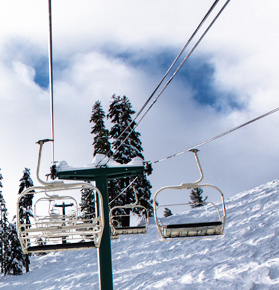 LEARN TO SKI OR RIDE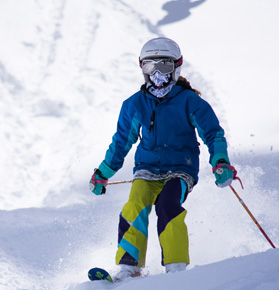 STAY AT THE PEAK