The Latest
Sunday, March 18, 4 PM .... Monday should be another great day with mostly sunshine and continued excellent conditions with machine groomed and skier packed powder. We'll operate Chairs 1,2,6 & 7 plus the beginner area. Don't forget our 3 day learn to ski/ride program is valid any three days all season.
We are open Friday, Saturday, Sunday and Monday from 9AM-4PM, expect to be open into late April. We are open daily for Spring Break March 26-30, including the Inn @ China Peak.
Services open Friday-Monday include the Day Lodge, Jack's, Buckhorn, China Peak Sports, Ski & Ride School, Learn to Ski & Ride, Ski & Board Rentals & Demos. Purchase lift tickets in advance on line or at Costco locations throughout Central California.Our 3 day learn to ski and ride program is available Friday-Monday, any three days all this season for just $149.
The Inn @ China Peak is open Friday-Sunday nights; Black Pass night is Sunday. Also open is J.W.'s Original Restaurant & Bar Friday-Sunday starting at 4 PM, dinner at 5:30 PM. Our Stay & Ski Free Special is Sunday night loddging and Monday skiing. Book on line or call the Inn at (559) 233-1200. If we don't answer please leave a message and we will call you back.
The Sequoia Brewing Company Party Bus to China Peak will run the next three Monday's, March 19 (sold out), 26, April 2 and now a special '60th Anniversary Party Bus' on Saturday, April 7 (available soon). Bus/ski or bus tickets are on sale now. Click here to BUY NOW!
OUR 60TH ANNIVERSARY IS NOW SET FOR SATURDAY, APRIL 7. DISCOUNT TICKETS ARE AVAILABLE NOW, Click here to purchase! WE'LL HAVE LIVE MUSIC AT BUCKHORN AND DAY LODGE, CONTESTS FOR THE BEST 'RETRO' LOOK, GREAT PRIZES, BEER TASTING FROM SEQUOIA BREWING COMPANY AND JUST A FANTASTIC TIME CELEBRATING SIX DECADES OF SKIING THE PEAK!
BRING OLD PHOTOS OF YOUR GREAT TIMES AT CHINA PEAK OVER OUR 60 YEAR PERIOD AND WE WILL HAVE A PLACE TO POST THEM IN THE DAY LODGE ON APRIL 7.
2017/18 WINTER SEASON PASSES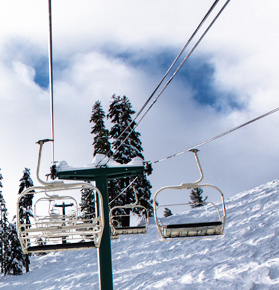 LEARN TO SKI/RIDE
STAY AT THE PEAK