The Latest
Saturday, January 20, 3:30 PM ... We received 3-8 inches of new snow yesterday, not enough to open on natural snow only, however the first cold temperatures in weeks have arrived and will give us a solid opportunnity to make snow on the mid and upper mountain slopes. If we get a long enough run of cold temps, as anticipated, we will move aggressively up to our new quad chair, Buckhorn.
IF EVERYTHING GOES AS PLANNED AND WE ARE ABLE TO MAKE SNOW INTO NEXT WEEK, WE ANTICIPATE OPENING CHAIR 6 AND THE BEGINNER AREA ON FRIDAY, JANUARY 26. AT THAT POINT WE WILL BE OPEN DAILY. WE ARE ALSO GOING TO BE MOVING OUR SNOWMAKING EFFORTS TO THE TOP OF THE MOUNTAIN AND THE NEW QUAD CHAIR 2, CONCENTRATING ON THE NEWLY SHAPED 'EXHIBITION' RUN. WHILE IT IS TOO EARLY TO SAY WITH CERTAINTY, WITH AN EXCELLENT WEEK OF SNOWMAKING IT IS POSSIBLE WE WILL BE ABLE TO OPEN CHAIR 2 THE WEEKEND OF JANUARY 27-28.
Note: As ticket prices are reduced below our regular rates until we open more of the mountain, lift tickets will be sold only at the resort, as prices at the resort right now are less than the on line rates.
The Inn @ China Peak - rooms, restaurant and bar - is scheduled to open nightly beginning Friday, January 26.
IF YOU HAVE QUESTIONS THE BEST WAY TO REACH US IS VIA EMAIL, INFO@SKICHINAPEAK.COM. WE WILL ANSWER EMAILS EVERY DAY.
Our 60th Anniversary Celebration, scheduled for January 20, will be rescheduled to a later date in the season.
2017/18 WINTER SEASON PASSES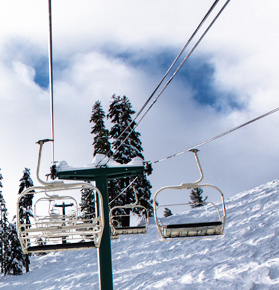 LEARN TO SKI/RIDE
STAY AT THE PEAK